Discover Extra Small Hosiery, Stockings, and Thigh Highs
In a world that's celebrating diversity like never before, fashion brands are all about size inclusivity. At VienneMilano, we're all about celebrating every body, including those who are small but mighty. So, if you're petite or just adore the idea of thigh highs that fit like a dream, our
Extra Small Collection
is your new BFF. We firmly believe that every body deserves to look and feel elegant, playful, and sexy, and that's why we've taken our best sellers to the land of the petite sized hosiery.
ISABELLA Sheer: A Rainbow for Your Legs
Imagine a world where your legs can become a canvas for color. That's exactly what the ISABELLA Sheer collection offers. In our commitment to size inclusion, we've made these gorgeous sheer stockings available in a plethora of colors. ISABELLA Sheer thigh highs allow you to express your personality through your legs. From classic black to bold red, you can match these hosiery with any outfit and be your unique self every day.
Pair ISABELLA with a pastel-colored sundress for a fresh and airy look. Complement this ensemble with a pair of classic white sneakers for a casual and comfortable touch, perfect for a sunny day out.
The sheer fabric provides a subtle yet alluring look, perfect for those who appreciate sophistication with a hint of sensuality. Whether it's a formal event or a casual day out, ISABELLA Sheer thigh highs are designed to make you feel confident and attractive. When you slip into ISABELLA, we make sure even the petitest folks out there get to savor the elegance and allure that these matte stockings bring to the table!
CLAUDIA Matte: Elegance in Every Step
For those who prefer a matte finish, our CLAUDIA Matte thigh highs are a true delight.These thigh highs exude an air of understated elegance and make your legs the center of attention without being too flashy.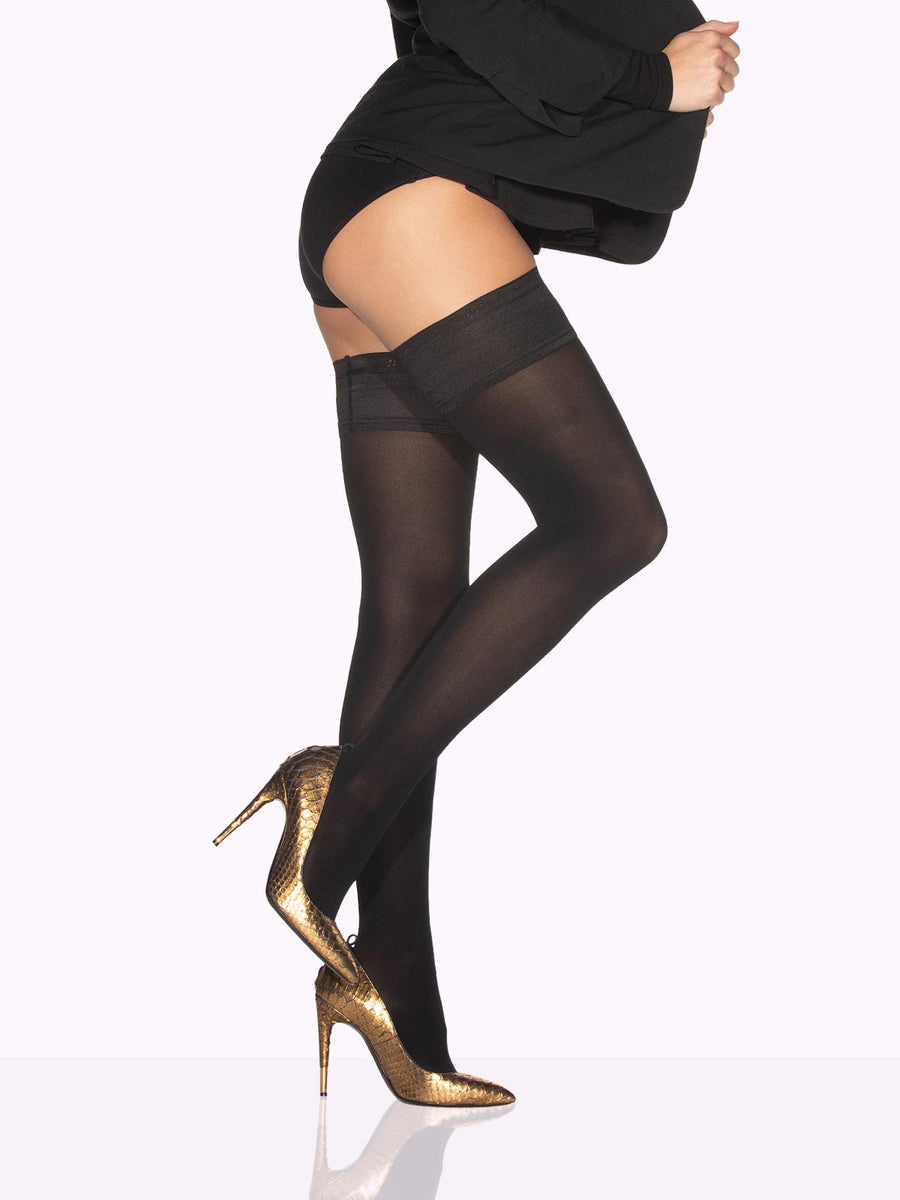 Match CLAUDIA with a form-fitting little black dress, and add some strappy stiletto heels to give your outfit a touch of glamour and flair for a night on the town.
The matte texture adds depth and character to your outfit, whether you're wearing them for a special occasion or just to elevate your everyday style. CLAUDIA Matte thigh highs offer both comfort and versatility in a size that truly caters to everyone.
ANDREA Opaque: Cozy Comfort Meets Chic
When it comes to warmth and style, our ANDREA Opaque thigh highs are the ideal choice. Designed with an exquisite blend of materials, these opaque hosiery offer a comfortable and cozy feel. With ANDREA opaque stockings, we guarantee that everyone, from the tiniest to the tallest, can stay warm and trendy throughout the winter.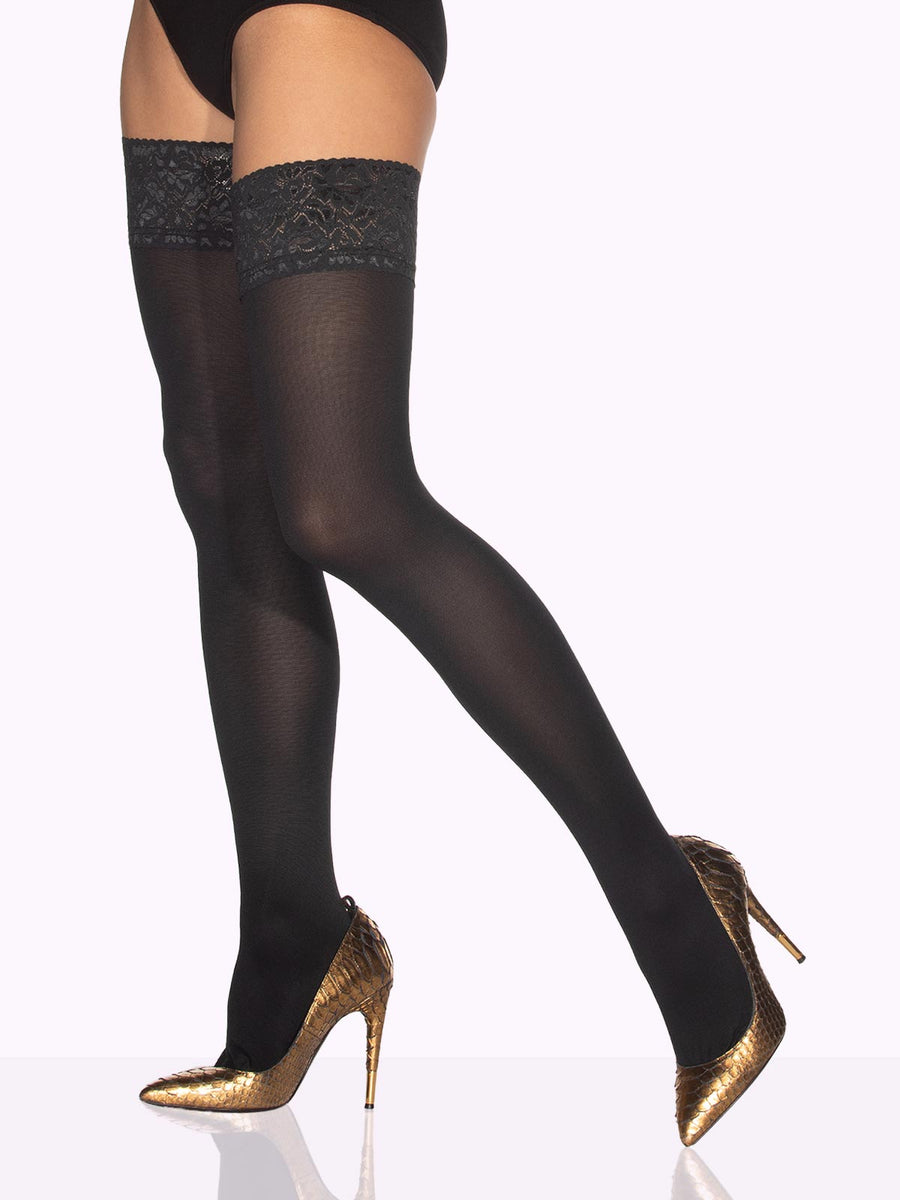 Available in Satin Black and Ivory ANDREA Opaque thigh highs can effortlessly complement your winter wardrobe. They're perfect for pairing with skirts, dresses, or even shorts, adding a touch of chic charm to your look.
Stay cozy and chic during the colder months by combining the ANDREA with a long, knitted sweater dress and a wide belt to accentuate your waist. Complement this warm and stylish ensemble with knee-high boots to keep you snug while making a fashion statement.
ALBA Back Seam: Classic Elegance with a Twist
For those who appreciate a touch of vintage-inspired fashion, the ALBA Back Seam thigh highs are a classic choice. With a timeless back seam running down the length of the leg, this pair of hosiery adds a unique twist to your outfit.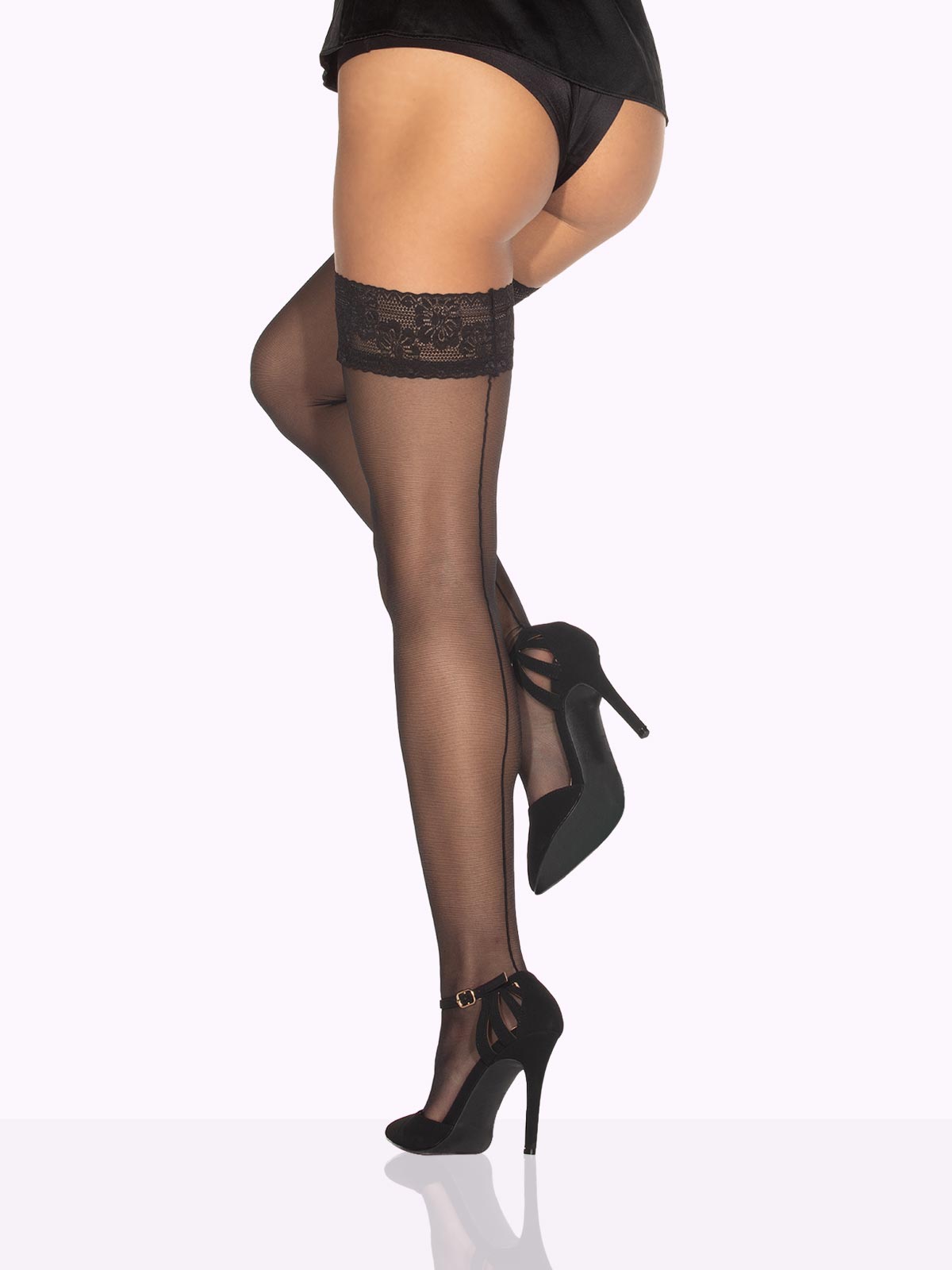 These stockings are a perfect match for a high-waisted pencil skirt and a tailored blouse, giving you a refined, office-ready look. Complete the outfit with a pair of classic pointed-toe pumps for that timeless professional charm.
These thigh highs are perfect for formal occasions, but they can also be worn to infuse a bit of classic flair into your everyday attire. The back seam design is a subtle yet eye-catching detail that captures the essence of vintage charm.
Your Time to Shine!
At VienneMilano, we're dedicated to making you feel beautiful, confident, and empowered. Our inclusion of petite sized thigh highs is an extension of this commitment. We believe that fashion should be accessible to everyone, no matter their size, and that everyone deserves the chance to shine.
Our ISABELLA Sheer, CLAUDIA Matte, ANDREA Opaque, and ALBA Back Seam in 1XSmall are here to ensure that even the smallest among us can enjoy hosiery that fits like a dream. With a range of styles, from sheer and elegant to cozy and chic, there's something for everyone in our Extra Small Collection.
To cheer for our commitment to size diversity and your one-of-a-kind style, we've got a little treat just for you. Grab 15% off our entire hosiery collection with the secret code BLOGPOST. It's our way of saying thank you for choosing VienneMilano!
So, why wait? Explore our 1XSmall Stockings, find the style that speaks to you, and let your legs do the talking. With VienneMilano, every body is beautiful, and every style is possible. Don't miss out on your chance to shine!
Stay tuned as we plan on adding more fabulous styles, colors, and textures to our Extra Small Collection! Be sure to check out our blog post Thigh Highs for Fun-Sized Girls.